Wednesday, June 30, 2004
Tuesday, June 29, 2004
Monday, June 28, 2004
Friday, June 25, 2004
Thursday, June 24, 2004
Notes on Technical Vocabularies
Some notes about Alan Moore & Steve Moore Publication
Technical Vocabularies
A quote from a friend

the title of "Technical Vocabularies" is a quote from "a passage in Theophile Gautier's biographical piece about Baudelaire where he defines the 'Decadent style'..." (the 19th century Decadent writers being a shared interest of Steve Moore and Alan Moore) "... one sentence of which refers to its use of "technical vocabularies..." And the poems themselves are written in four traditional forms: pantoum, sonnet, sestina and villanelle (ie "four different techniques of using vocabulary")...
Adapted from the
Alan Moore group at Yahoo
.
On the front cover is

Technical
Vocabularies

Games for May


Alan Moore
&
Steve Moore


Somnium Press
2004
Games for May on the cover is probably a reference to
Syd Barrett
's
See Emily Play
song but might also have something to do with the fact that it's copyrighted Mayday, 2004.
Games for May -Space Age relaxation for the climax of Spring
David Hume quotes
The Oxford Latin Dictionary, 1976, has "somnium -(noun)1. a dream, vision 2.
An idle hope or imagining, fantasy, delusion, day-dream"

Cassell's New Latin-English, English-Latin Dictionary, 5th ed, 1977 gives
"somnium - (n.) a dream, Literally: in a dream; Metaphorically: a fancy,
day-dream; foolishness, nonsense" (!)

Perhaps reflecting not just the "24 hour" aspect of the project but also the
spirit of spontaneity behind it?
On the inside front cover, it's copyrighted "Alan Moore & Steve Moore, Mayday, 2004".
"Private edition: 26 signed & lettered copies.
Public edition: 75 signed & numbered copies".
My copy is Public Edition #70 of 75 copies.
As usual Alan signs himself A Moore but Steve signs his full name.
Fourinone2000 writes

The booklet is 8 pages plus cover and there are 4 total poems, two by each of the authors. The first is by Alan Moore, titled
"Where I hid the Gold on Honey Island"
and it is 1 1/2 pages long. The second one is by Steve Moore, titled
"Petals"
and is 1 page.
The third is by Alan titled
"Gatecrashers"
and is 2 1/2 pages long; the last is by Steve titled "AEAEA" (the first two "AE's" are set as a dipthong) and it is 1 1/2 pages long. Nothing on the back cover.

All in all, I liked the piece. Both of the authors were able to turn phrases in a way that made the imagery vivid. I don't recognize the stuctures to any of the poems (no surprise there, since I'm no poetry expert). They seem rather free-form, though there is a distinct rhythym to each that makes them flow well.

The first poem by Alan Moore,
"Where I hid the Gold on Honey Island",
is a love poem. He uses imagery of treasure, ferns and "Sheets in
relief map continents of pleasure" to describe making love with his partner.

The second one by Steve Moore, titled "Petals", is also a love poem but more somber in its tone, as he recalls a lost love.

The third, by Alan and titled "Gatecrashers", is the one I found most interesting. He describes events in everyday life as something mundane and distant, and is able to evoke a feeling of real ennui with lines like "condemned to serve my time, with people I don't know in rented rooms". He sums it up with his last lines:
"Life's dead-end street is but a painted set.
We fall through doors to unsuspected rooms,
Resume our anecdotes, are done with time"

The first lines of Steve Moore's "AEAEA":
"I'd take a galley to the far, far west,
If I could but escape this world of care"
seem to be about the relief of death and going to a more pleasant
place. Both this poem and Alan's Gatecrashers include references to metaphysics that remind me of the Ideaspace Alan speaks of in so many of his interviews.
Thomas Lautwein pointed out that
"Aiaia or Aeaea is the island of Circe the witch in
Homer, Odyssy chant 10."
which is appopriate at the poem deals with Circe and Ulysses.

I also couldn't help noticing a kind of theme to the booklet. The
first two poems are about love, the second two suggest death. It kind of relates to the cover illustration of a woman, love, and the snake- thing who symbolically "sloughs off the mortal coil" when it sheds its skin. (But I could reading more into it than is intended).


Greg "fourinone2002" (who's hoping he hasn't gone past the bounds of legitimate usage by including so many lines from the poems).


It's mostly free-form, but both of Steve Moore's poems have some
rhyming verses and there is a definite, structured rhythym which is sometimes repetitive (I'm not sure if that disqualifies it from being considered blank verse or not).
>Also made me think of his snake-god, Glycon. The >face looks sort of human/dragon-like? <

I'm sure that the snake was referring to Glycon in some way. After
all, the authors are the only two members of "The Moon and Serpent
Grand Egyptian Theatre of Marvels".

> How does the title, "Technical Vocabularies" relate to the contents btw? I thought it might refer to the sort of "technical" words and phrases a magician might use as part of a ritual or spell - "magic words" sort of?


I think magic "spells" or something is what the title is referring
too, considering that both of the authors share that interest and
that Alan has spoken of those things in interviews and proposed
projects like "A Grammar".

It's funny though, I was expecting this piece to be full of
references to the occult and mysticism, but it's really not. There
are some allusions, but for the most part instead of poems
reminiscent of Blake and Yeats this piece seems more akin to Whitman or the Beats.


Blank verse would be iambic pentameter without end rhymes like
Shakespeare's plays and Milton's Paradise Lost. Free verse is verse
without a regular metrical pattern like Whitman and the Beats,
although good free verse usually has a nice rhythm, and if it's Alan
Moore, I'm sure it's good.

Quoting myself this time
It came in a nice plastic cover along with
TOP SHELF TALES
Free Comic Book Day 32 pgs dated July 3 2004.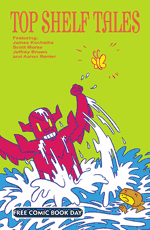 Aubrey Beardsley seems like the inspiration for Alan's drawing on the
cover.
8 pgs. of text with the back cover left blank. 3 nice identical flower
images at the ends of poems on pgs. 2, 6 & 8.

"Monet light" and "Damp Rousseau ferns and moss" are referred to in the first poem.
The first poem consists of 5 verses with each verse repeating 2 lines
from the previous one. If you assign a letter to each line then it
scans as follows

A
B
C
D
****
B
E
D
F
****
E
G
F
H
****
G
I
H
J
****
I
A
J
K

So that the 2nd line of verse 1 becomes the 1st line of verse 2 and
the 4th line of verse 1 becomes the 3 line of verse 2 and so on for
all 5 verses with the first line of verse 1 also being the 2nd line of
verse 5.

Joe Camhi notes

"In both poems, Alan Moore is using traditional forms, but he is
varying them a bit.
Based on the pattern of the repetition of lines, the first poem is
close to a Pantoum. According to Lewis Turco's book The New Book of
Forms, it is a Malayan form. In English, it is usually accentual
syllabic. It can have any number of stanzas. However, Alan varies
the form. In a traditional Pantoum,within each quatrain, every other line rhymes. Also,
a traditional Pantoum is ended by either repeating lines 1 and 3 in
the final quatrain in reversed order, or by forming a couplet with
lines 1 and 3 in reversed order.

Alan's 2nd poem
GATECRASHERS

[John]"Coltrane and cocaine" are referred to in this poem

6 1/2 verses long. Verses 1-6 are 6 lines long, verse 7 is 3 lines long
The last word of each line
In verse one assigning letters to each word
A = time
B = rooms
C = set
D = doors
E = fall
F = street
Only these 6 words are used as the last word of each line
VERSE 2
F
A
B
C
D
E
VERSE 3
E
F
A
B
C
D
VERSE 4
D
E
F
A
B
C
VERSE 5
C
D
E
F
A
B
VERSE 6
B
C
D
E
F
A
VERSE 7 (or 6 1/2)
C
B
A

Looks like Alan set himself a technical exercise in constructing this
poem too.

Joe Camhi again
The second poem is a very popular French form called a Sestina, but
Alan also varies that form. Below is the traditional order for the
repetition of words. The last triplet is called the envoy, and each
line should contain two of the repeated words in the order shown
with the first word inside the line, and the second word at the end
of the line. Also, the traditional English Sestina has an accentual
syllabic meter (usually iambic), and the lines can be any length,
but traditionally all the lines are the same length (for example,
iambic pentameter). According to Turco, the traditional form is
based on the numerological sequence 615243, the significance of
which has been lost since the Middle Ages. Perhaps Alan has a
mystical numerological reason for breaking with the traditional
order, or perhaps he just felt like it. ;-)

The classical form:

A
B
C
D
E
F
-------
F
A
E
B
D
C
-------
C
F
D
A
B
E
---------
E
C
B
F
A
D
-----------
D
E
A
C
F
B
-------------
B
D
F
E
C
A
---------
B D
D C
F A




Wednesday, June 23, 2004
Monday, June 21, 2004
Sunday, June 20, 2004
Friday, June 18, 2004
Wednesday, June 16, 2004
Tuesday, June 15, 2004
Saturday, June 12, 2004
Tuesday, June 08, 2004
Monday, June 07, 2004
Friday, June 04, 2004
Thursday, June 03, 2004
Wednesday, June 02, 2004
Tuesday, June 01, 2004